Los Angeles, California: (January 11th, 2012) – Emser Tile, a premier designer and marketer of floor, wall, counter tile and natural stone will introduce an extensive line of new product offerings at this year's Surfaces Trade Show in Las Vegas, NV, on January 24-26, 2012.
Emser's new introductions will include fourteen new ceramic and porcelain collections, namely Alpine, Cabana, Cosmopolitan, Del Mar, Dimensions, Granada, Napa, Paseo, Peninsula, Perspective, Rock, Sakai, St. Moritz, and Titan. The fashion forward Lucente Glass series has been expanded to over 150 items. Image, an extraordinary new glass collection, will feature 18 colors and 6 blends.
Camelot metal series, boasting nearly 50 items, and Treasure metal mosaic series, which consists of six colors and 3 blends, will also be featured.
Emser's industry leading selection of Natural Stone products is also expanding with many new introductions. Included in these introductions are full lines of Trav Cottage Tumbled Collection, Trav Ancient Tumbled Silver Collection, Bianco Gioia Honed Collection and Hamlet Mini Split-face Series. In addition, Emser Tile has added a Scabos Travertine, an Onyx Trav Chiseled and a Champagne Light Limestone to the program. Emser Tile has also expanded many of its current best sellers including decorative additions to the Trav Ancient Tumbled Series and has added sizes to Bianco Gioia Polished , Crema Marfil Classico, and Crema Marfil Plus, expanded its Marble Metro Series with 2 additional colors, and added a 24×24 and a Banded Versailles to the Earth Slate and Golden Sand collections.
"Surfaces is a terrific venue for Emser to highlight and introduce new products. Many of our customers use this show to view new items and identify trends and we are eager to assist", said Bob Baldocchi, Director of Marketing at Emser Tile.
Surfaces Show 2012 will take place on January 24-26th, 2012, at the Mandalay Bay Convention Center in Las Vegas, NV. Emser's booth number is B4215, Exhibit Halls BaySide A-D section.
For meeting and press appointments, please contact Aris Gharapetian at Arisgharapetian@emser.com
About Emser Tile LLC:
Emser Tile LLC is the largest privately held designer and marketer of tile and natural stone products in the United States. Our principal offering includes an extensive line of ceramic, porcelain, natural stone and decorative products to service the design and product needs of our customers. Our products are distributed nationally through a company-owned network of local sales and service locations that service our trade partners. The company's products are used extensively in new home construction, remodel applications as well as commercial projects including multi-family housing, hotels, malls, office buildings and education facilities. For more information, please visit www.emser.com or follow us on Facebook at www.facebook.com/emsertile.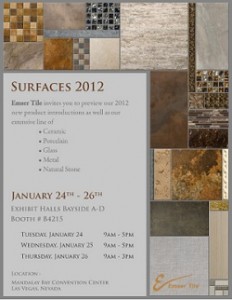 For Additional Information Contact:
Emser Tile
Attn: Aris H. Gharapetian
Marketing Manager
8431 Santa Monica Blvd.
Los Angeles, CA 90069
323-650-2000 Ext 345
www.emsertile.com
www.facebook.com/emsertile
Arisgharapetian@emser.com